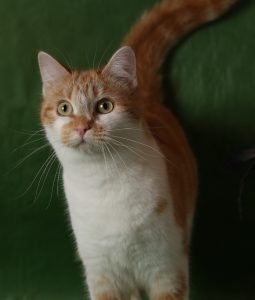 It can be tempting to give a cute, cuddly pet as a gift. Yet along with the precious purr that won't stop or the fluffy tail that never stops wagging, there comes a commitment to another life, another living being, for the next 10, 15, even 20 years.
No one wants to give an unwanted gift — especially a vulnerable one that lives and breathes.
Cats are a wonderful addition to life, yet not everyone has the time, energy, money, or interest in having one.
A surprise gift may be tempting, but every cat has its own personality, it is impossible to make that choice on behalf of someone else, so why not opt for a Chats du Quercy gift voucher which covers our adoption fees?
Once you are sure that the recipient wants a cat, contact us and we'll talk you through the process of buying a gift voucher which will also include a card and small gift that you can give to the person adopting or can be sent by post with a personalised message from the giver.
The voucher can be redeemed at our Cat Adoption Centre by the person adopting when they visit to choose their new companion.
If ultimately they decide against adopting, you can be assured to have made a much-needed donation in their name.
When you adopt a cat, there are a lot of financial, emotional, and time concerns.
However the unconditional love you get is amazing, but it does come with work and financial commitment, so please be sure.
You can see all our cats and kittens currently for adoption here, as well as more advice concerning our adoption procedures, be assured our adoption pages are always up to date.